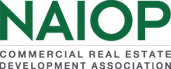 Keynote: The Future of Logistics is Wide Open (I.CON West 2019)
Recorded On: 06/06/2019
Kick off the conference with lunch and welcome remarks, followed by a keynote fireside chat with Phil Hawkins, who was at the helm of DCT Industrial Trust when the company was acquired in an $8.5 billion deal by Prologis in 2018. Molly McShane, chief operating officer with The McShane Companies, will facilitate the discussion, asking Hawkins about his vision for the future of industrial, the potential for disruptors ahead, and why he thinks small, privately held companies are going to be just as crucial as large companies going forward. Hawkins' remarks will be followed by Q&A, so bring your burning questions!
Prior to the session, meet the recipients of the NAIOP and Prologis Inclusion in CRE Scholarship for Women and Underrepresented Professionals.
Welcome Remarks:
Thomas J. Bisacquino, President and CEO, NAIOP
Greg Fuller, 2019 NAIOP Chairman and President and COO, Granite Properties
Keynote:
Phil Hawkins, Former President and CEO, DCT Industrial Trust
Molly McShane, Chief Operating Officer, The McShane Companies
For the full list of recordings, visit the I.CON West 2019 Archived Recordings page.
Conference Recording Sponsor:
Keynote The Future of Logistics is Wide Open
Open to listen to or download MP3 audio.
Open to listen to or download MP3 audio.