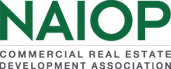 California's Split Roll Tax Initiative (CRE.Converge2019)
Recorded On: 10/15/2019
California residents will vote on a ballot initiative to increase the property tax burden on commercial real estate by lifting the protections of Proposition 13. If the initiative is adopted in November 2020, commercial real estate in California would pay an estimated $11 billion in additional property taxes. This would not only affect every commercial and industrial owner, but their tenants as well. The cost of doing business with a California business or vendors would dramatically increase. This session will focus on the negative impact the initiative would have on our industry if adopted, and the industry's strategy to defeat the initiative.
Speakers:
Toby Burke, Senior Director of State and Local Affairs, NAIOP
Matthew N. Klink, Partner, California Strategies
For the full list of recordings, visit the CRE.Converge 2019 Archived Recordings page.
Conference Recording Sponsor:

California's Split Roll Tax Initiative
Open to listen to or download MP3 audio.
Open to listen to or download MP3 audio.