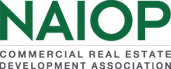 Live Webinars
What's Next for the Dynamic Industrial Market? Webinar (2019)

Includes a Live Event on 04/16/2019 at 2:00 PM (EDT)

Whether you are developing, investing or brokering industrial real estate, you know the product has been hot and continues to expand. E-commerce, last mile delivery, two-story urban distribution centers and more continue to shape all aspects of the multifaceted industrial market.