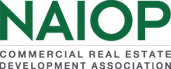 NAIOP Webinars and archived webinar recordings are free for NAIOP members and $49 USD ($63 CAD) for nonmembers.
Webinars
Includes a Live Web Event on 10/18/2022 at 2:00 PM (EDT)

In this webinar, hear from experts at Skanska USA Commercial Development on a new term that characterizes the new reality of our built environments as a result of the COVID-19 pandemic and environmental concerns: "Sustainovation."

Includes a Live Web Event on 11/01/2022 at 2:00 PM (EDT)

Hear analysis of the CRE sector across Canada and for selected major metropolitan centres including Montréal, Ottawa, Toronto, Calgary, Edmonton and Vancouver. Metrics are also provided for the provinces of Quebec, Ontario, Alberta and British Columbia.

Includes a Live Web Event on 11/08/2022 at 2:00 PM (EST)

Kristin Jensen, principal and co-managing director at Gensler, will leverage firsthand knowledge from over 20 years of experience leading development projects to bridge the perspective of developer and designer as she facilitates a conversation around the value of technology in the design, construction, and operation of buildings designed for the future.

Includes a Live Web Event on 11/15/2022 at 2:00 PM (EST)

This webinar will provide members with an update on recently enacted legislation and proposed federal regulations of importance to the commercial real estate industry, focusing on NAIOP's legislative priorities, including developments in tax, energy, and environmental policy.

Includes a Live Web Event on 12/06/2022 at 2:00 PM (EST)

Get the inside track on upcoming opportunities in the office sector with Hany Guirguis, Ph.D., Professor, Economics & Finance, Manhattan College and Michael J. Seiler, DBA, J.E. Zollinger Professor of Real Estate & Finance, College of William & Mary.
Recent Archived Webinar Recordings
Recorded On: 10/04/2022

In this webinar, hear from experts operating in the Chicago metro area who will cover the state of the market in the region, what's driving demand for different product types, and opportunities for commercial real estate developers and investors.

Recorded On: 09/27/2022

In this webinar, the author of a recent NAIOP Research Foundation report by the same name​ will share key takeaways from the report in which he examined three trends: the conversion of shopping centers to distribution centers; adding distribution uses to existing retail buildings; and the development of mixed-use properties that include both distribution and retail. Learn about the opportunities and risks associated with each strategy and engage in a Q&A following the presentation.

Recorded On: 09/20/2022

In this webinar, explore how use of the FTZ program by importers, exporters and 3PLs can provides significant cost savings; strengthen and expedite the supply chain; drive compliance and inventory accuracy; and provide flexible options despite unplanned global logistics disruptions.

Recorded On: 08/23/2022

In this webinar, experts will discuss best practices and share how technology is helping get these projects closer to neighborhoods while keeping key stakeholders in the community happy.

Recorded On: 08/09/2022

Hear lessons learned from a 35-year real estate veteran turned renewable energy expert in this webinar. He'll share the top 10 questions every savvy real estate professional should consider before jumping into the clean energy transition.
| Access Date | Quiz Result | Score | Actions |
| --- | --- | --- | --- |